Why Choose SEMrush Over Any Other SEO Tool?
Search engine optimization is a vital part of your digital marketing strategy, but it's complex and often requires the use of an SEO tool to effectively manage. Data and analytics are the lifeblood of SEO and it's through this analysis that you understand what your website needs and how the changes impact traffic and conversions.
SEMrush is a complete suite of SEO tools that can help you create your SEO strategy, analyze the data, and make suggestions to improve your strategy. It's quickly becoming the industry standard. We'll examine the many features of SEMrush and why it's the best of all SEO tools available. Also, we invite you to try SEMrush for free and activate our special offer here !

SEO Tool with Most Accurate Search Volume Data
When determining a keyword list for your web content or blog, it's important to know the average monthly search volume. This along with keyword competitiveness helps determine if choosing that keyword is worth it.
Websites want to rank for the best and most searched keywords for their niche, but if that niche is too competitive, then it can be difficult to rank. Accurate keyword search volume lets you find keywords that are less competitive but can still bring additional traffic to your site.
SEMrush updates its databases constantly to maintain the most accurate data for search volume and other metrics.
Largest Keyword Database Available
Keyword variety is essential to creating a highly efficient SEO strategy, but many SEO tools don't have a database large enough to fit most niches. SEMrush's Keyword Magic Tool has more than 20 billion keywords, which is the largest in the industry.
SEMrush allows you to create diverse keyword lists. You have the ability to enrich your PPC and SEO campaigns with diverse keywords you won't find anywhere else. In addition to keyword research, it also allows you to compare the keyword rankings for your site with a competitor in a side by side comparison.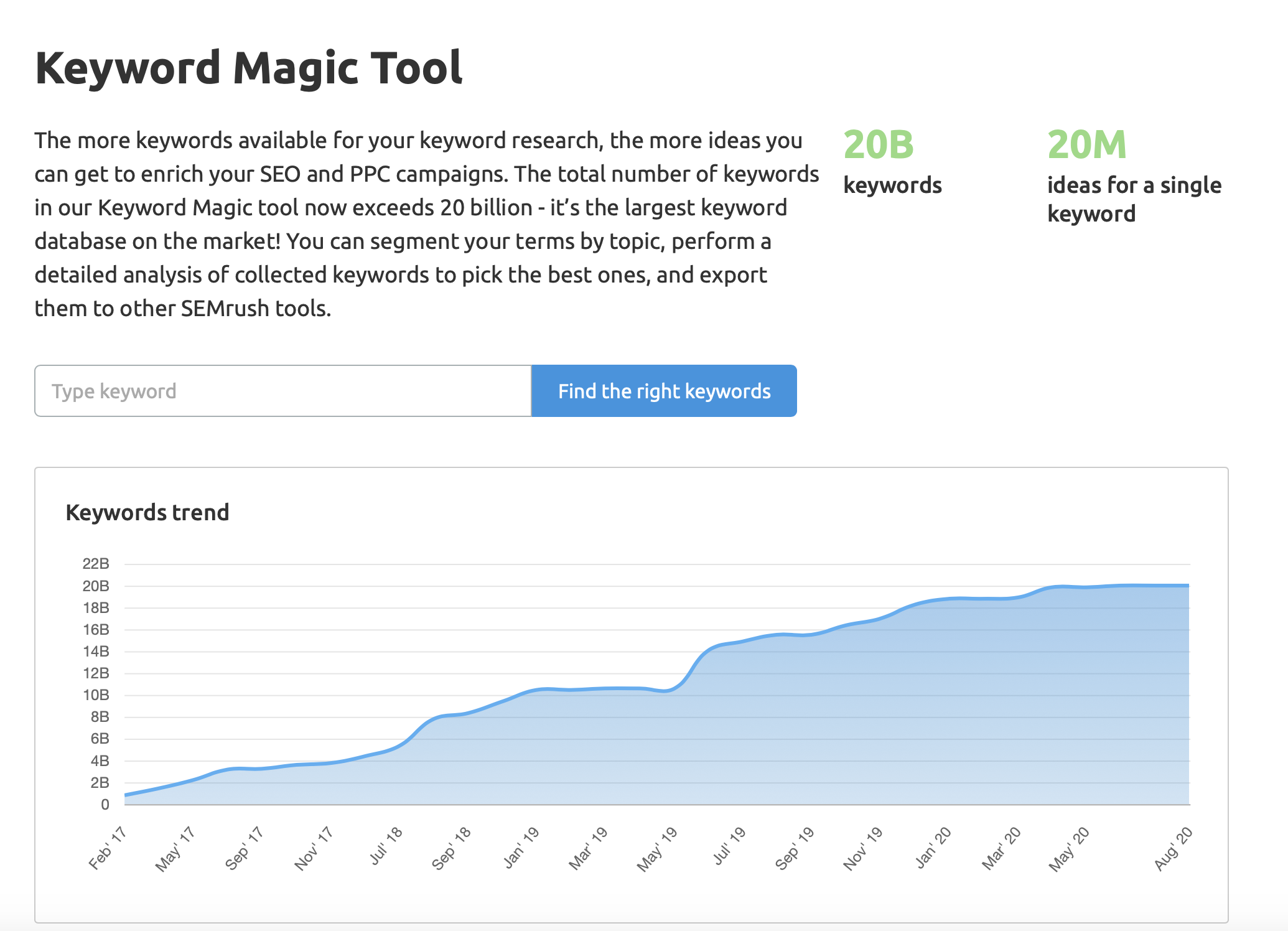 While many other SEO tools may have keyword tracking and keyword analysis, only SEMrush can provide a complete SEO picture for your website.
Position Tracking that Is Unmatched
While most tools for SEO require you to upgrade your buyer level if you want to increase the number of keywords you want to track or if you want daily updates for your rankings, SEMrush doesn't require anything like that.
You can have daily data updates as well as rankings for desktop and mobile. If you want to track additional keywords, then you can buy them directly without purchasing additional buyer levels or add-ons.
It's perfect for individual websites that want to track their keywords or agencies with multiple clients. Up-to-date keyword metrics are vital to understanding the effectiveness of your SEO strategy.
In business, you need data fast to out do your competitors. You can't wait three days or more to see updated numbers. By then, your competitor could have overtaken you.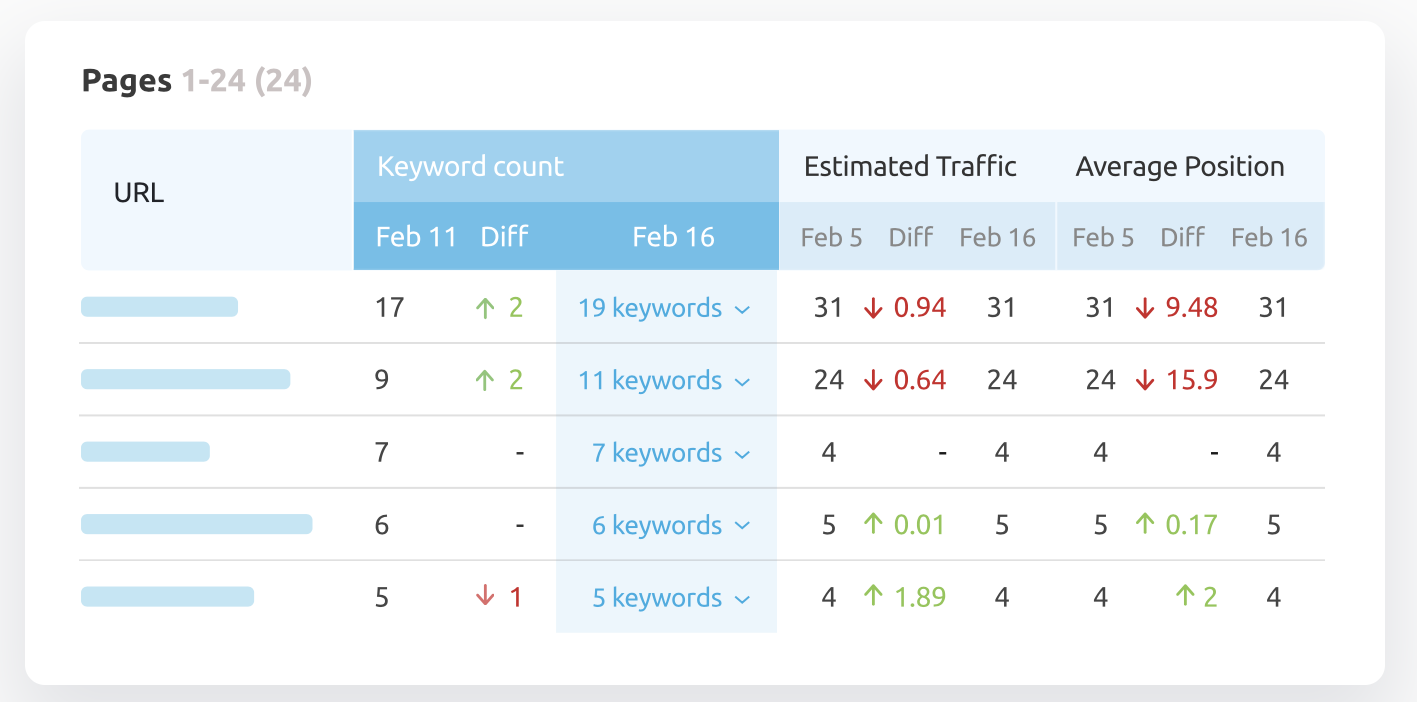 SEMrush Reporting Is Top Notch
If you need to meet with shareholders, clients or managers to discuss the SEO program and its positive results, then you need reporting that covers all the information you need in a way that is easily accessible.
SEMrush has several default reports you can use as well as custom reports you can create with the specific information you need. It also has integrations for Google Analytics and Google Search Console. It's a great way to create visually appealing reports with ease.
If you're an agency, then the platform allows you to white label the reports with your logo. All the data you need is available for the reports including key performance indicators. You can also schedule reports and have them emailed to specific people.
Backlink Reporting and Analysis
Google's algorithm takes many factors into consideration for rankings including backlinks. Backlinks are links from a website that links back to your site. It could link back to the main page, a blog article, or even pictures.
SEMrush lets you not only discover all your backlinks but also provides a toxicity ranking for each one. High value backlinks can improve your ranking drastically, but toxic backlinks can drop rankings quickly. SEMrush provides a toxicity score and lets you create a document to easily disavow the backlinks on Google Search Console.
Its backlink capability doesn't end there. Using your keywords and competitors, it can suggest backlink opportunities that you may be missing.
While many tools let you examine your backlinks, few provide a toxicity score and let you find new opportunities.

Robust Content Marketing Platform
Google places a high value on well-written informative content that contributes to your expertise, authority, and trustworthiness. They can have a tremendous impact not only on ranking but also customer experience on your site.
High quality blog posts rank well but finding topics and making sure it fits Google's needs can be difficult. The SEMrush content marketing platform is everything you could need. You can search for topic ideas and use the SEO writing assistant when creating the article.
There is an on-page SEO checker and content audit. Once you've got the post up on your site, you can track its popularity and see if anyone backlinks to it through brand monitoring.

In-Depth Competitor Analysis
Odds are there are numerous competitors in your niche from the mom and pop stores and websites to large franchises. An important part of your SEO strategy is seeing where your site is compared to your competitors.
The SEMrush domain overview provides you with a snapshot of your competitor's stats including average traffic for organic and paid traffic and keyword lists and rankings for both organic and PPC. It gives you a list of their backlinks and even provides examples of their ads.
You can use the domain overview for your site too and see how you compare with your competitors. It's a great way to set up a baseline as well as goals for your SEO program.
SEO Programs Start with a Site Audit
While there is much emphasis placed on-site content and keywords when it comes to SEO, there are many other factors as well. The SEMrush site audit is an amazing tool that has SEMrush bots scour your website just like Google bots and lists common SEO errors that you can fix.
The report not only identifies the issues but also provides the links to the pages. It covers a wide variety of issues from 404 errors and H1 headings to missing alt tags and much more. If you're starting an SEO program, the audit can help improve your overall rankings by making improvements to existing issues.
Agencies can send Excel and PDF versions of the reports to clients.
SEMrush Includes Marketing Calendar
If you're an agency, then you're likely not a one-man operation. You have people that are experts in search engine optimization and others in content writing and PPC. You may have a lead for a client, but there are probably several people working on its digital marketing.
How can you keep them all on the same page? The SEMrush marketing calendar lets you plan and align your marketing strategy, collaborate with the team, and track your performance. If you have a client with multiple marketing avenues, then this can help keep track of everything going on.
Resources for PPC Too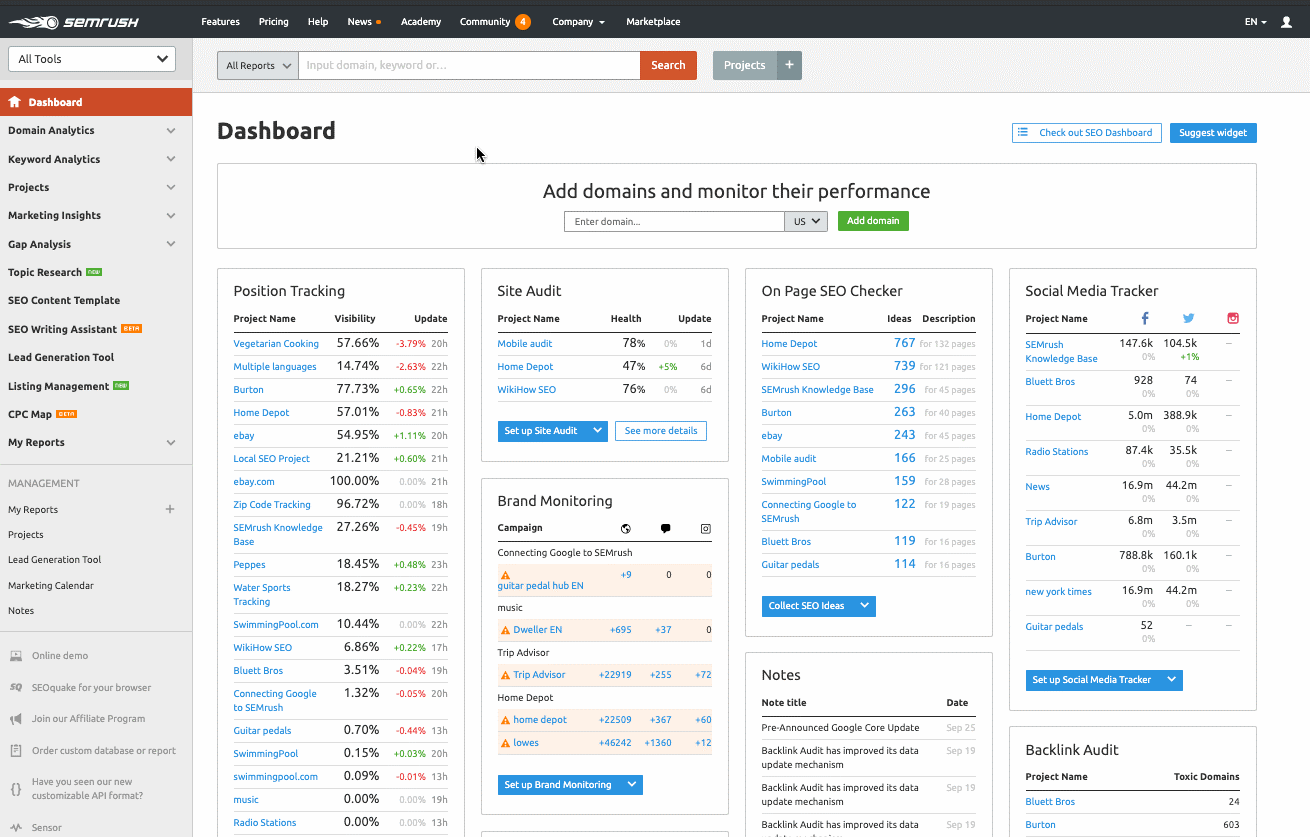 SEMrush is known primarily as an SEO tool, but there are also areas for Pay Per Click as well. In addition to the paid advertising tracking in the domain overview, the keyword CPC and other metrics in the keyword section, there is an area to help you create ads.
There is a CPC map to help you determine what area of the country would be most profitable and Trafficjet lets you automate the PPC process to make it easier to manage.
One Place for Everything You Need
SEMrush is the best tool for SEO because it has everything you need in one place. While other SEO tools may provide some of these many benefits, you would need subscriptions to multiple tools to get all of them.
It's the only place you can not only get all of these benefits but also connect them in reports without having to download from one tool and then upload it into another. The cost of multiple subscriptions mixed with the efforts to combine the data makes it unprofitable and inefficient.
SEMrush subscriptions are at a low price and provide you the flexibility you need.
SEMrush Is the Industry Leader
There are many different SEO tools on the market and each one says they can revolutionize your digital marketing strategies. SEMrush is the only SEO tool that has this many benefits and a hefty database to go along with it
It doesn't matter if you need help with keywords, content, competitor analysis, or PPC. It has the tools available at prices that are affordable.
If you want to learn more about search engine optimization or SEMrush and what it can do or your business, then please explore our site.
Follow this link to our special offer and try SEMrush for free!